Nestled in the lap of the Aravali ranges, this  beautiful campus offers residential programs & courses teaching personal development & meditation practices. The silence & tranquility of the campus provide an atmosphere for self-exploration & unique spiritual experiences. Spread over 35 acres of natural beauty, it is located just four kilometers from Pandav Bhawan (Mount Abu) the international head quarters of the Brahma Kumaris worldwide.
It consists of various services for guests such as a reservation Counter for flight, trains and buses, reservation for local sight seeing, registration facility for the ongoing programs, enquiry etc.
A modern auditorium which seats 1800 individuals in a tiered space. Equipped with high tech audio and visual facilities, the hall gives a feeling of togetherness and belonging during national and international retreats as it provides simultaneous translation in more than 16 languages.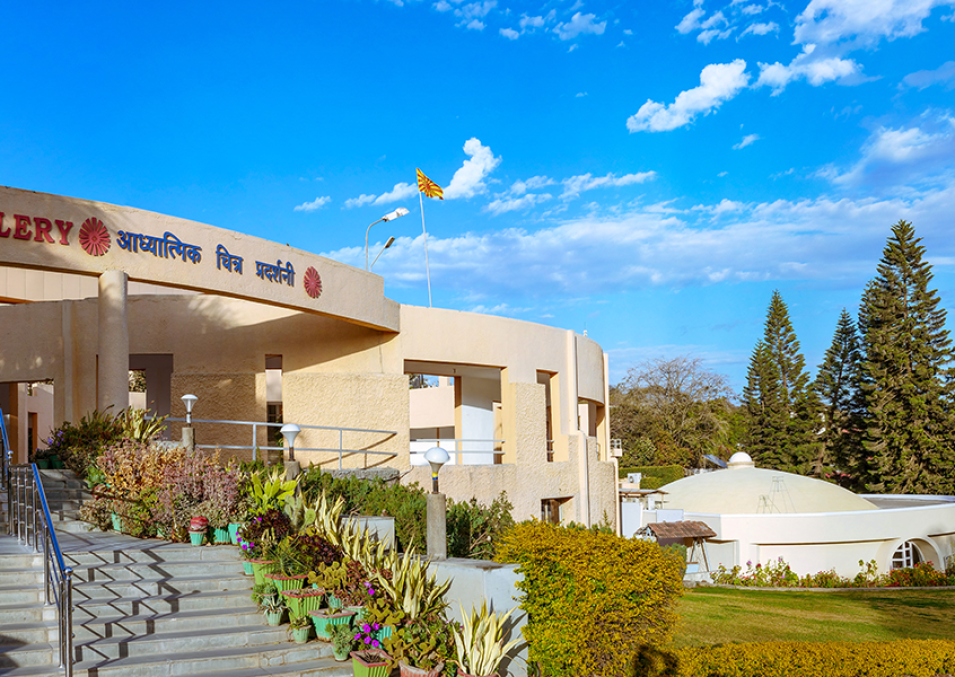 This gallery depicts the basic wisdom of Brahma Kumaris in artistic forms which combines high tech audio –visual interactive programmes with traditional Indian art, and features murals showing international images.
This is an auditorium style 3D movie depicting the Brahma Kumaris philosophy. It also features the meditation experience which takes the soul on a journey to its home of silence. Visitors can view this show in Hindi or English.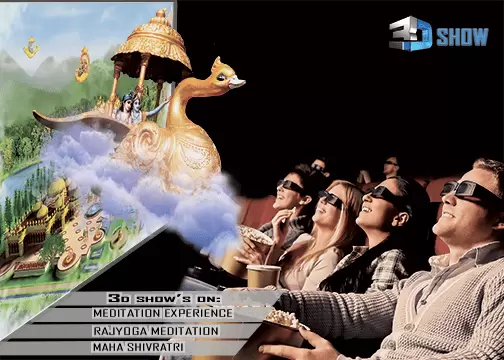 The Spiritual Applications Research Centre (SpARC) was formed in 1995 as an internal research group that would dedicate itself in exploring and experimenting with applications of the spiritual knowledge of this institution towards the cause of world service. Accordingly, SpARC focused on projects that experimented with practical applications of Rajayoga in daily life. In addition, Special Interest Groups were formed that explored diverse topics, ranging from the Nature of Time and Space, to Values in Business.
The unique park features beautiful lawns, a variety of trees and plants, children's playing areas, majestic statues, wisdom quotes etc.
Dadi Janki Park is a small tribute from the organisation to Dadi Janki, to commemorate her 100 years of selfless and tireless service towards the upliftment of the humanity. Unlike other parks, it is carved out from the natural landscapes of famous Aravali hills and contains numerous varieties of flowers, trees, waterfalls, lakes ,open air theater and a hut for meditation. Close to the mother nature, it assimilates the pure and powerful vibrations flowing from the Rajyoga students visiting the park throughout the day. Biographic gallery of Dadi ji has been developed to give the deep insights to the visitors of the 100 years living legend.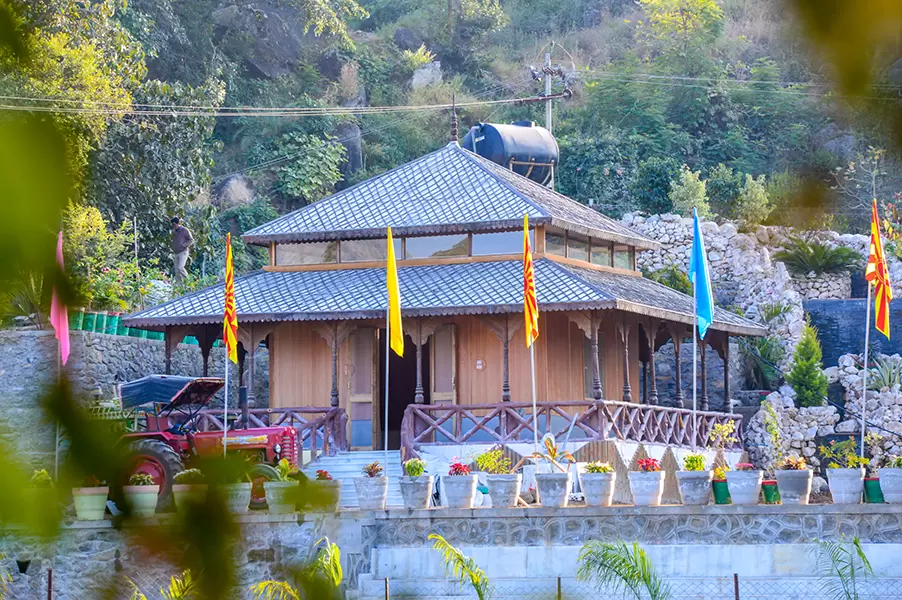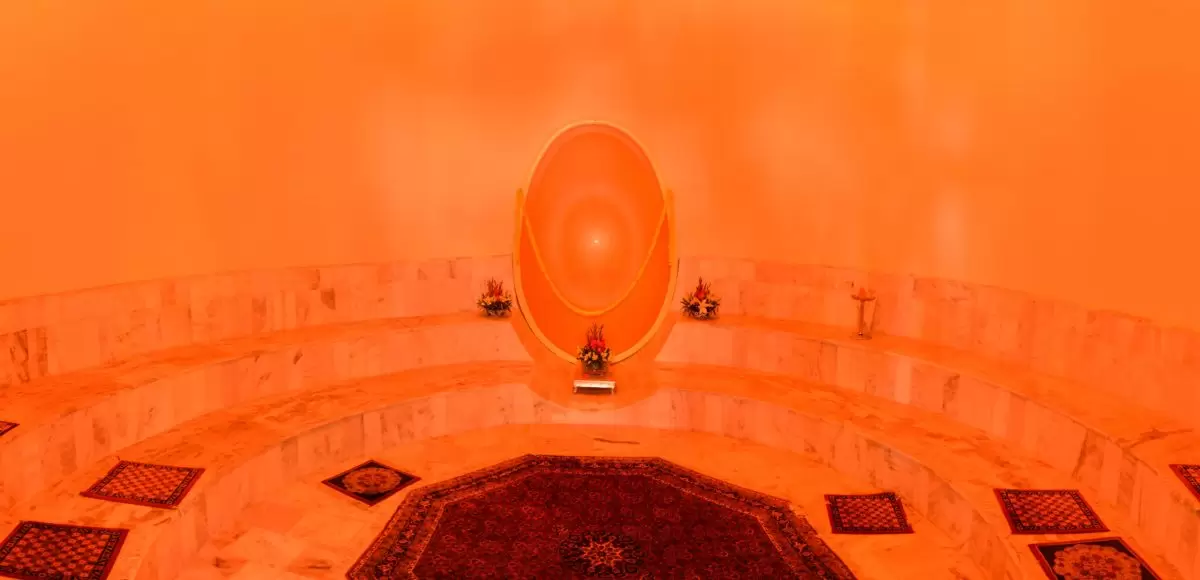 It features a 'dome–and–vault design/construction technique' of stabilized mud bricks. This deeply quiet room relies entirely on solar and wind energy for its electricity supply and has an internal earth tunnel ventilation system which maintains a relatively stable year–round temperature. 
This large facility offers 7 dining spaces that are able to serve 'Sattvic' vegetarian food to 1200 individuals at a time. The kitchen uses solar system provides steam for cooking process. A complete modular solar steam cooking system of 24 x 7.2 square metres and parabolic solar dishes are capable of providing 4000 meals per day.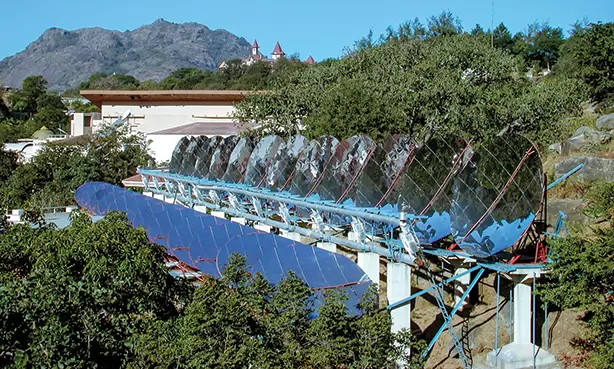 The solar hot water plant provides nearly 60,000 litres a day for bathing in the Gyan Sarovar campus . Another solar system provides steam for cooking process. A complete modular solar
steam cooking system of 24 x 7.2 square metre parabolic solar dishes is capable of providing 4000 meals per day. About 50kw stabilized electricity is also generated which is used for computers, telephones, emergency lights & audio-visuals. 
A large number of single and twin bedrooms plus dormitory style accommodation that offers comfortable living for 450 people through different blocks like Harmony House, Peace Cottage, Dadis Cottage, Raj Rishi Bhawan , Shanti Kunj, Vishnu Puri, Divyadarshan Bhawan etc.
Gyan Sarovar has an on site dispensary which has a Doctor and nurse available 24×7 to offer primary care to the residents and guests. This dispensary both allopathic and homeopathic treatment.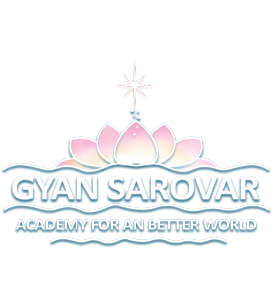 An Oasis of Peace empowering individuals and organanizations to inculcate higher values through training.
©2022 || All Rights Reserved || Gyan sarovar - Academy for a better world